You're welcome in our little cafè Pan e Vin, which is in the centre of Corniglia in via Fieschi 123.
It has just three tables outside and three inside; it's perfect to have a delicious fresh breakfast (with an espresso or a cappuccino, squeezed fruit juice, fresh toast and croissant, a slice of home made cake), taste a good glass of 5 terre DOC wine, have a friendly wine tasting, drink an Aperol Spritz, eat a very good vegan sandwich and some tasty and genuine cheese from Tuscany or Sardinia.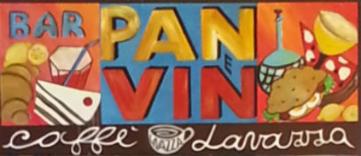 We suggest to try a wine tasting at cafè "pan e vin": it consist in three quality of 5 terre wine + some cheese, bread, focaccia, salame and olives for the price of 16,00 euros.
Do not miss our fresh vegan sandwich with grilled vegetables: zucchini, aubergines, onions, peppers, fresh and sun-dried tomatoes, lettuce and basil. And our super fresh specialty TRIS DI BRUSCHETTE or a very fresh mix salade.